Home
>>
Guangzhou Airport Guide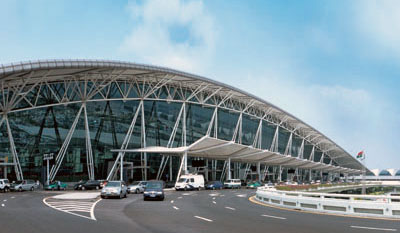 Guangzhou Baiyun International Airport ( IATA: CAN), built in 2004 Aug 05, is located in Guangzhou, the capital city of Guangdong Province, it's one of the three major airports in China.
Guangzhou Baiyun International Airport has opened 123 domestic and international flights routes, including domestic routes 86, international and regional routes 50, more than 500 flights per day.
The terminal building is divided into A and B area (departing passengers from the main terminal to use the connecting bridge to the opposite terminal), A area is responsible for international flights, and other domestic flights outside the southern airlines. B district is responsible for Southern Airlines, as well as the name of the group's airlines (Xiamen airlines, Chongqing airlines, etc.). Passengers can arrive directly from the terminal to leave the airport, no need to the main terminal (take the subway to the terminal negative 1, the parking lot also need to negative 1).
Useful Numbers:
Airport Inquiry: +86-020-36066999
Luggage Storage: +86-020-36066859
Guangzhou Airport Transportation
1. Guangzhou Airport Subway: Passengers can take the Subway Line 3 to / from Guangzhou airport.
Guangzhou Subway Line 3 starts from Tiyu Xi Road in Tianhe District, passes by LinheXi, Guangzhou East Railway Station and so on, finally arrives Guangzhou Airport.
Airport South Station: 06:10 (first train)- 23:00(last train)
Interval: 7 minutes and 30 seconds
2. Guangzhou Airport Shuttle Bus: Guangzhou Airport open up 5 Airport Express lines and 6 Airport Non-stop lines to round-trip between airport and downtown.
Interval: 20 ~30 minutes
Guangzhou Airport Shuttle Bus will take passengers to city's major hotels, grand plaza and transportation center, such as Garden Hotel, Guangdong Hotel, Winton Hotel, Pearl Hotel, CITIC Plaza, Haizhu Square, Tianhe Bus Station, Guangzhou North Station and so on.
3. Intra City Buses: To service passengers out of Guangzhou city, Guangzhou Airport provides intra city bus service. The buses will take up passengers from/to Dongguan, Foshan, Zhongshan, Huizhou, Jiangmen, Nanhai, Qingyuan, Shenzhen, Shunde, Taishan, Yunfu, Zhaoqing, Zhuhai and Wuzhou(Guangxi Province).
Interval: Every 1 hour
4. Guangzhou Airport Taxi: As the door to door transportation, taxi is the most convenient transportation, Guangzhou Airport has taxi stops, passengers can take a taxi to or from the airport.
Arrival Area A: Outside Gate A5;
Arrival Area B: Outside Gate B6.
Guangzhou Transportation Supervise Number: 020-96900